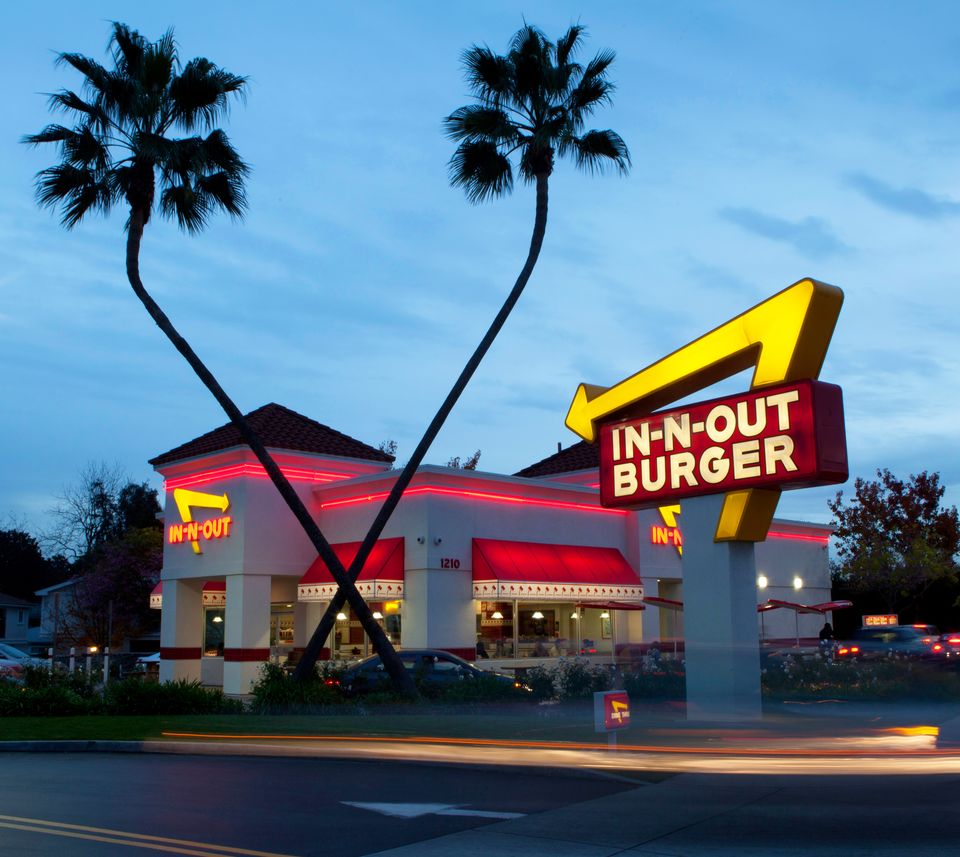 Which one do you prefer: Whataburger or In-N-Out Burger?
Five Surprising things about Houston, Texas
1. Residents in Houston eat out more times a week than in any other city in America.
2. More heart surgeries are performed in the Texas Medical Center than anywhere else in the world.
3. The first traditional Hindu Mandir in the nation was built in Houston.
4. Houston Was The First Word Spoken On The Moon: "Houston, Tranquility Base here. The Eagle has landed."
5. Before air conditioning was available in Houston, people used to put ice blocks in front of fans.
Texas Chicken Fried Steak
From The Urban Cowgirl

Ingredients
4 (1/2-inch-thick) steaks of eye of round
3 cups all-purpose flour
1 tablespoon seasoning salt
Freshly cracked black pepper
2 tablespoons cornstarch
3 eggs
1/4 c. milk
1/4 liter canola oil, for frying
West Texas Gravy:
3–4 tablespoons oil, reserved from the pan you cooked the steaks in
3–4 tablespoons flour (grab some of the seasoned flour from breading the steaks)
2 cans evaporated whole milk
1 1/2 teaspoons fresh lemon juice
1/2 teaspoon each garlic powder and onion powder
1 teaspoon salt
Freshly ground black pepper
Instructions
Begin with the round steak. Place the round steak inside the butcher paper it comes in, or use parchment or wax paper to cover the individual steaks on both sides while pounding flat. Pound out your steaks with a tenderizing mallet to thin 1/4-inch slices. They will get bigger and wider as you go. I alternate between the spiky side and the flat side of the mallet as I go.
Combine the flour, seasoning salt, freshly cracked black pepper, and cornstarch in a bowl and whisk it well, then place it on a large platter.
In a glass dish (big enough to dunk a whole steak) combine the three eggs and milk and whisk into a thin mixture to make an egg wash.
Dip each steak into flour, shake it off, then into egg wash, shake it off, then back into the flour. Place each steak on a nice big cookie sheet. Repeat with all the steaks, then transfer into the refrigerator for a half-hour. Do not skip this step. This is giving the flour mixture time to bind and develop. Meanwhile, you can clean up, remembering to reserve 4 tablespoons of seasoned flour for the gravy.
To cook the steaks, fill a cast-iron skillet about halfway with canola oil. Heat the oil to 350°F on medium-high heat. (You can test the oil with the back of a wooden spoon. When it bubbles around the spoon, it's hot enough. This happens at about 350°F.)
Using tongs, place a steak in the oil. It should immediately start to bubble and cook, but not explode with activity. If it does, you will want to turn the heat down a nudge. Depending on the size of your skillet, you can cook two or more at the same time. Especially if you preheated that cast-iron skillet. You may have to monitor the heat when adding new steaks. I think a good secret is to let the majority of the first steak get nice and well fried on one side before trying to add in another one.
Watch the edges of the steak for a golden-brown color. The edges will tell you what it looks like underneath! When you feel like the sides look golden brown, flip the steak and repeat frying on the other side, 4-5 minutes depending on the pan used.
As each steak is done, remove it from the pan and immediately salt it on each side. Hold on a cookie sheet in a preheated oven at about 225°F. This will keep them hot while you cook the other steaks, but they are best served quickly for maximum crispiness.
When all of the steaks are resting and toasting in the oven, pour all the grease out of the skillet except about 3–4 tablespoons and turn the heat down to low. Sprinkle in the reserved flour and whisk until a brown paste begins to form.
Slowly whisk in one can of milk and whisk until it is thoroughly combined. Turn the heat up to medium and whisk as the gravy begins to take form and thicken, which happens when the mixture starts to simmer. Little bubbles will begin to form. Keep the heat around medium.
I usually add another 1/2 can of milk as I decide how thin/thick I want my gravy . . . that's just a preference thing. Feel free to do what you like. Add the lemon juice, onion and garlic powder, and salt. We crack freshly ground pepper in just before serving and sprinkle on fresh thyme from our herb garden.
Meet Author, Eliza Scalia

My name is Eliza Scalia, I am a 25 year old therapist at a juvenile detention center for boys. I am the author of soon to be twelve books (4 self-published, 8 traditionally published) as well as two published short stories. I have a master's degree in clinical mental health, and the knowledge I obtained through that education is used throughout my written works. I am also in charge of instructing a study group for traditional Japanese swordsmanship, the school that the study group is part of being several centuries old. I may be a young author with a busy life, but I have plenty of other stories to tell.
I currently live in the panhandle of Florida around twenty miles from the beach. Naturally when here, the best places to go center around the beach and water sports. We also have many shopping areas, places where small or big kids can have fun, and endless fabulous restaurants.


I am currently writing the children's chapter book series, The Adventures of Silver Dove. This series is all about superheroes and has an anti-bullying premise. Two teens are given superpowers in their freshman year. Colomba transforms into the hero, Silver Dove, the defender of peace. Luis transforms into the Crow. One power that the Crow possesses is that he can give other people superpowers. Luis has always been bullied, so he decides to give superpowers to other bullied kids so that they can get revenge. Each book focuses on a different reason for why a person would get bullied; such as shyness, obesity, or disabilities. Silver Dove recognizes that these are kids in pain and chooses to convince them that revenge is not the way to go and helps them realize how to solve their problems. https://elizascalia.com/
The setting of my book, Death's Assistant, is mostly within a high school in a small, rural town. Honestly I did not have to do any research for my setting. I went to a high school like this in Winchester, KY, a place so small and insignificant to most people that even people who lived in nearby towns didn't know where it was. An actual state is never mentioned in my books since I want this to be a small town anywhere. I want this story to be read by anybody so they can see their local high school in the story. The place does not matter to me; what matters are the people within the place.
https://amzn.to/3yjWDJq
Hot Crab-and-Artichoke Dip

This creamy crab dip is coming in hot. Artichokes, cream cheese, Old Bay seasoning, a hit of lemon, Parmesan, and mozzarella cheese combine to create an appetizer that hits all the right notes. The process is easy: All you need to do is melt the cream cheese, stir in the rest of the ingredients, and sprinkle the top with the remaining Parmesan before popping the baking dish into the oven. Just make sure to set the timer because this Hot Crab-and-Artichoke Dip will be bubbling to perfection in a flash. For the best-tasting dip, look for freshly picked unpasteurized crabmeat at your local seafood counter. Your second-best option is frozen fresh crabmeat. Avoid the canned kind; it is pasteurized to have a longer shelf life and doesn't have as much flavor or aroma as the fresh stuff. Serve with crackers or Belgian endive leaves.
By Karen Schroeder-Rankin

Serves 4


Ingredients
2 ounces cream cheese
1/4 cup mayonnaise
2 scallions, chopped (about 3 Tbsp.)
3/4 teaspoon Old Bay seasoning
3/4 teaspoon Worcestershire sauce
3/4 teaspoon hot sauce (optional)
1 teaspoon lemon zest, plus 1 Tbsp. fresh juice (from 1 lemon), divided
1/2 cup finely chopped artichoke hearts (from 1 [14-oz.] can)
4 ounces lump crabmeat, drained, picked over, and squeezed dry
1 ounce low-moisture mozzarella cheese, shredded (about 1/4 cup)
2 ounces Parmesan cheese, shredded (about 3/4 cup), divided
Directions
Preheat oven to 350°F. Lightly coat a 1-quart gratin baking dish with cooking spray.
Microwave cream cheese in a large microwavable bowl on HIGH until very soft, about 20 seconds.
Stir in mayonnaise, scallions, Old Bay, Worcestershire sauce, hot sauce (if desired), and lemon zest until well blended.
Gently fold in lemon juice, artichokes, crabmeat, mozzarella, and 2/3 cup of the Parmesan.
Spread mixture evenly in prepared baking dish; sprinkle with remaining Parmesan (about 1 1/2 tablespoons).
Bake until dip is hot throughout and bubbly around edges, about 25 minutes. Let stand 5 minutes. Serve with crackers and endive leaves.
Meet Patricia Lee

Patricia Lee has had a fascination with words and what they can do since she wrote her first short paragraph at the age of six. She worked as a stringer for a local newspaper during her middle and high school years representing the school's news to the community. She received her B.A. in Journalism from the University of Oregon, then went on to work as a tabloid newspaper editor at her local church.

After she married, she began her freelancing career and sold to various publications, including Expecting, Moody Monthly, and Power for Living. More recently she has published in two anthologies, Cup of Comfort Bible Promises and Heavenly Company, as well as featured articles in Focus on the Family's Clubhouse magazine. An Anchor On Her Heart, her debut novel, released in July, 2017 with Mountain Brook Ink, and she has since released three more novels, Love's Autumn Harvest, Love Calls Her Home, and A Kite on the Wind. The Descendant's Daughter released in December 2020 with Winged Publications.

She lives with her husband and a handful of furry friends in the Pacific Northwest. The couple has two grown children.
Tell us about your book, The Sister's Plight

Will a pair of long lost treasures recovered a continent apart pave the way for two eager hearts to find each other?

Realtor Blake Bergstrom stumbles upon an ancient barn while checking fences along a deserted property. A cursory inspection reveals a prairie schooner stored at the building's back. He climbs into the wagon and discovers a rusted lockbox. Secreted within is a water color portrait of a young man. Whose picture could this be and why is it here?

When her mother needs her to check an abandoned cabin before the plantation where it sits is sold, Emberly Chastain uncovers her great-great-great Uncle Fred's Bible and takes it with her. Tucked inside is a watercolor portrait of a young woman Emberly can't place. Her uncle never married. Who can she be?

Curiosity sets Emberly on a quest to solve the mystery, a journey that will take her across the continent following a long ago wagon train. Will whatshe finds help her own heart mend and open the door to a new love?https://amzn.to/3shXLel

Meet Diana Shuford

All of my life I've loved to read. When I had poetry published in middle school and high school, a kernel of desire to see my words in print took root. After marrying the most important man in my life, I attended and graduated from Georgia State University (Go Panthers!) with a degree in Education and a teaching certificate. During my years in the work place and focusing on my family, my desire to write intensified. After much discussion with my husband, I once again began pursuing my dream of becoming a published author.
I consider the desire, ability, and opportunity to write stories a gift. As with any gift, the written word must be used with thought and care. Through printed words, others can be encouraged, edified, and entertained. Where else can all three be accomplished?
My goal with every story is to create characters that inspire and encourage others to follow their faith. God's grace, mercy, and provision are more than sufficient in every situation: through trials, through conflicts, through happiness. Each individual character must decide what role faith plays in their life just as we (you and I) must decide how important faith is to us. Each created character brings their faith into the real world to find victory and blessings.
In addition to writing, I am also a mother, grandmother, part business owner, and full-time teacher/learning specialist in the public school system.
Readers can connect with me through my website: www.diannashuford.com, on Facebook @authordiannashuford, or on Twitter @DiannaWrites. I would love to hear from you.

Tell us about where you live

I live in a small Georgia town called Senoia. A fun fact about Senoia is that it is the home of the Walking Dead and Riverwood Studios; we even had an episode of the Walking Dead filmed in our neighborhood, and our yard became the actors' break area for a day. Zombies walked back and forth in our backyard all day. It did make getting in and out of our neighborhood difficult though, so I don't want to repeat the experience. Here is a picture of the town featured in season 3 when Senoia became Woodbury, GA. I showed my husband that they put him in the Walking Dead through the setting even though he didn't get to be an actor during season 2. (Neither of us are lawyers. LOL)

Tell us about your book

Dangerous Exposure won the 2021 National Excellence in Romantic Fiction Award for the Inspirational category, and it is a 2021 Finalist for the prestigious Maggie Award! Amazon Link

Talking and walking faith is easy when life is going well, but how do you rely on God in the midst of an assailant's attention? Addison Parker, a resident of small-town Massey, Georgia, works to serve and protect as a homicide detective in the city of Atlanta. Facing burn-out from constant exposure to society's dark side, Addison vows to locate the newly emerged murderer, Jackdaw. This killer, hunting women who serve their community on the Southside of Atlanta, has targeted Addison Parker as his next quarry in this deadly scheme.
Joe Vaughn, a news reporter and newly-arrived resident of Atlanta, is trying to start over. His mother's long struggle with cancer and a journalistic mistake left him with a career nearly ended. Skeptical of police procedures after the botched investigation that let his father's killers go free, he finds his current articles provide the only link between Jackdaw's murders. Evidence that at first implicates Joe leads to an unwilling alliance aimed at drawing out the killer.
Together Addison and Joe lay a trap to catch the elusive Jackdaw but become ensnared by each other in the process. Addison, still running from a past relationship gone wrong, and Joe, a backslidden soul still hurting from his parents' untimely deaths, battle each other in an attempt to deny a budding relationship. Will Addison and Joe stop seeing life through past hurt and betrayal so God can gift them with the relationship neither has dared to dream about? Can they find the killer before it's too late, protecting Addison from the threat of death? Addison and Joe discover faith through their tumultuous journey together, trusting in Him when the natural world around them falls apart.

Share a local Georgia Recipe.

This is a recipe I created based on my mother-in-law's macaroni and cheese (she makes it from memory) that is served to the family every holiday. It wouldn't be a holiday feast without baked macaroni and cheese.
Dianna's Macaroni & Cheese
16-24 oz. shredded medium or sharp cheddar cheese
8-16 oz. shredded mozzarella cheese
16 oz. box macaroni, cooked and drained
5-6 eggs
1 stick of butter, cut into pieces
2 T flour
3-4 12 oz. cans of evaporated milk (mixture should be soupy)
Salt and pepper to taste

Preheat oven to 350º. Spray 9x13 pan with non-stick cooking spray. Mix all ingredients together. Pour into pan and bake for 60 minutes or until top is browned. Let sit for 20 minutes before serving.

**Place baking sheet underneath the casserole dish if oils from the cheese run over the top of the dish. (I learned this one the hard way.)

Suggestion: let noodles cool before combining with other ingredients, otherwise the cheese will begin melting before the dish can bake.

For a smaller serving size:
8 oz. macaroni, cooked and drained
8 oz. cheddar cheese, shredded
4-8 oz mozzarella cheese, shredded
4 eggs
1 T flour
1 stick of butter, cut into pieces
1-2 12 oz. cans of evaporated milk
Salt and pepper to taste

Bake in a smaller casserole dish.